City of Memphis OBDC Business – Pre-Certification Workshop (Free-No Cost)
This workshop is intended for businesses interested in becoming a City of Memphis Certified Vendor (MWSBE) and newly Certified Vendors with the City of Memphis .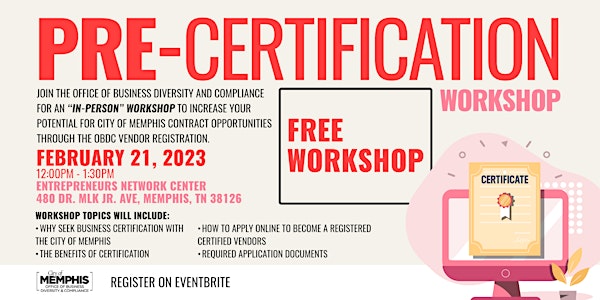 This "In-Person" workshop is targeted to Small, Minority, and Women-Owned businesses located in the City of Memphis Metropolitan Statistical Area Counties (Shelby County, Tate County, Tunica County, Crittenden County, Desoto County, Fayette County, Marshall County, and Tipton County). The Workshop will be followed by a Question & Answering period.
Workshop topics will include:
• Why seek business certification with the City of Memphis
• The Benefits of Certification
• How to apply online to become a Registered Certified Vendor
• Required application documents
The City of Memphis EBO and SBE Programs and Services are extended to qualifying business enterprises.
PLEASE NOTE: Only registered parties will be able to attend and participate.